Registeration of Incorporated Trustees (NGO's) in Nigeria
Incorporated Trustees are organization like Church, Club, Mosque and NGO.
HOW TO REGISTER. visit https://services.cac.gov.ng/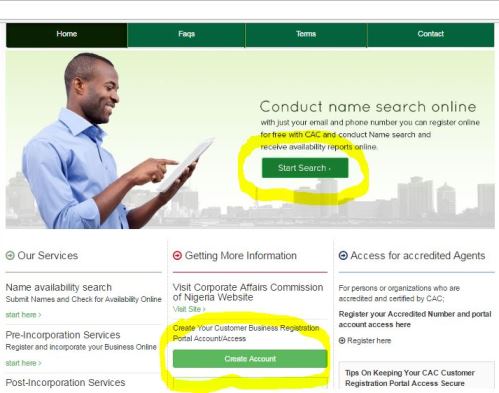 Step 1: Search for Availability of the name
Step 2: Buy Procurement of application form which contains a memorandum for guidance of application
Step 3: Publication of notices in three (3) national dailies, one being a local newspaper widely circulated in the area where the organization is based
Step 4: Submission of the duly completed application form in triplicate which should be accompanied by the following documents:
A formal letter of application
The original newspaper publications
2 copies of Applicant's constitution
Minutes of the meeting whereat the trustees were appointed, having the list of members present and absent and showing the voting pattern, signed by Chairman and Secretary of the Board
Minutes of the meeting where the special clause rules was adopted into the constitution of the organization; signed by Secretary and Chairman
Trustees (Applicants) have to attach 2 passport sized photographs of themselves
Trustees have to sign against their names on the application form (encl d) and furnish permanent residential addresses
The impression of the common seal should be affixed on page 11 of the form and
Draft of 20,000.00k in favour of CAC and made payable in Abuja
Two copies of the application form
Application form duly signed by Secretary and Chairman of the Board
NOTE:
Trustees can register Church, Club, Mosque and NGO without engaging the services of a Legal practitioner, Chartered Accountant and Chartered secretary.
For help and other assistance, you can contact.
[ct_button id="button_65″ size="big" link="https://www.aziza.com.ng/register-company-business-registration-service-nigeria/" icon="" bg_color="#"]Company Registration Service[/ct_button]