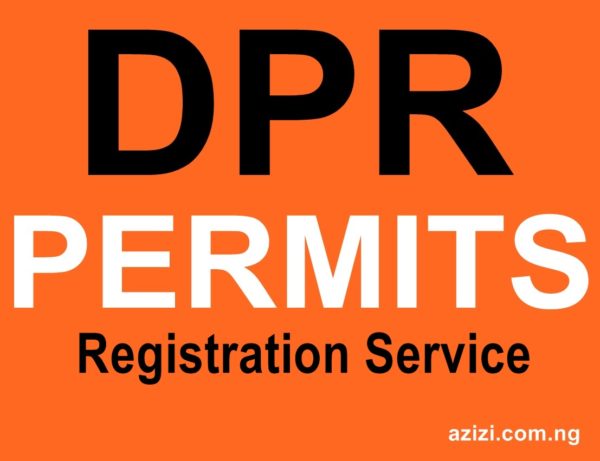 There are several types, categories, processes and locations in which you can make your Department Of Petroleum Resources (DPR) Permits. Aziza Nigeria do assist and gives registration support service for your DPR permits in Nigeria:
. OIL AND GAS INDUSTRY SERVICE PERMITS (OGISP)
OFFSHORE SAFETY PERMIT

IMPORTATION OF PETROLEUM PRODUCTS INTO NIGERIA PERMIT

APPROVAL TO CONSTRUCT AND OPERATE PETROLEUM PRODUCTS FILLING STATION PERMIT

BUNKERING OPERATIONS PERMIT

MINISTER'S CONSENT TO THE ASSIGNMENT OF INTEREST IN OIL & GAS ASSETS PERMIT

DESIGN AND CONSTRUCTION OF OIL AND GAS SURFACE PRODUCTION FACILITIES PERMIT

THE GRANT OF STORAGE AND SALES LICENSE FOR LUBRICATING OILS PERMIT

PERMIT FOR LUBE OIL BLENDING/WASTE OIL RECYCLING PLANTS

PERMIT FOR ESTABLISHMENT OF MODULAR REFINERIES
Nigeria's Department of Petroleum Resources (DPR) is now processing and issuance of statutory Oil and Gas Industry Service Permits (OGISP).
Read: Permits & Certificates You Need Start Oil & Gas Business in Nigeria
Below are 3 DPR Permit Categories of OGISP with the fee:
1. General DPR Category

The total statutory/ official fee N5,500.00
2. Major DPR Category

The total statutory/ official fee N27,500.00
Please note, we are not Department Of Petroleum Resources. We only help organizations to facilitate the permits applications.
For DPR permits assistance,

click

contact us:
or call
Mobile: +234 8033 185 898