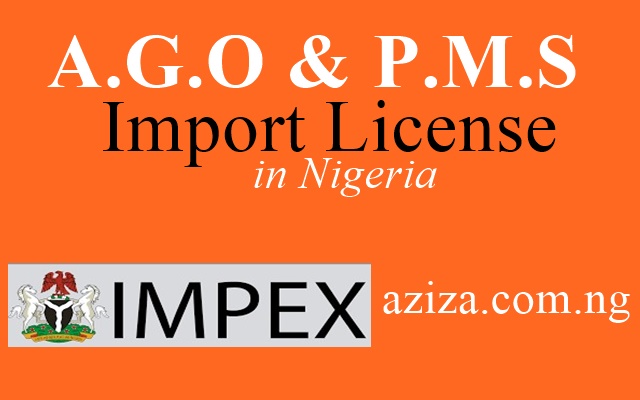 This post contains how to obtain AGO and PMS Petroleum products import license in Nigeria. The DPR import license/ permit procedure, eligibility, requirements and our support service to obtain import license and Through Put Agreement for your company in Nigeria.
What is AGO Import Permit?
AGO means Automotive Gas Oil. Automotive Gas Oil is generally referred/ known as or called Diesel.
Automotive Gas Oil (A.G.O) Import license is a DPR license you (a corporate body) need to import AGO petroleum product into Nigerian territory.
What is PMS Import Permit?
PMS means Premium Motor Spirit. PMS is generally referred to as petrol.
Premium Motor Spirit (PMS) Import license is a DPR license you (a corporate body) need to import AGO petroleum product into Nigerian territory.
Other Acronym:
HHK means Household kerosene for domestic use.
DPK means Dual Purpose Kerosene
ATK means Aviation Turbine Kerosene is also known as Jet A1 of aviation fuel. It is used to power aircrafts.
LPG means Liquefied petroleum gas or liquid petroleum gas (LPG or LP gas), also referred to as propane or butane. LPG are flammable mixtures of hydrocarbon gases used as fuel in heating appliances, cooking equipment, and vehicles.
Gasoline is the fuel designed for spark-ignition internal combustion engines. Conventional gasoline is a mixture of compounds, called hydrocarbons, derived from petroleum crude plus a small amount of a few additives to improve its stability, control deposit formation in engines, and modify other characteristics.
Eligibility for AGO and PMS Import license
All companies duly registered under the Corporate Affairs Commission (CAC) as providers of goods and services in the downstream sector of the Nigerian oil and gas Industry are eligible to apply for Import Permit of Petroleum Products subject to having access to appropriate Storage Facilities which could be owned or leased from third parties.
DPR Import Permit/ License Requirements
Below are DPR import license/ permit requirements. These requirements are for AGO and PMS Petroleum products.
* Certificate of Incorporate
* Memorandum and Articles of Association
* Current Company Tax Clearance
* Bank References Letter (original copy)
* Storage Facility or Through put Agreement
* TSA payment
* email address of the company
THROUGH PUT AGREEMENT
An agreement to put a specified amount of product per period through a particular facility. An example is an agreement to ship a specified amount of (AGO or PMS, or AGO and PMS) or crude oil per period through a particular transportation channel (ship, pipeline etc).
Where an importer do not have a storage facility and do not have Through Put Agreement, we will support you in all these to complete your application and obtain your import permit.
Aziza Nigeria is a Regulatory Compliance & Business Support Services in Nigerian. We specialized in Marine, Oil & Gas Business Support with many years of experience in the industry. Contact us for your Petroleum Products (AGO, PMS, etc) Import License in Nigeria. We will give you timely delivery and transparent service.
Also, we source and assist buyers of Petroleum Products to buy and deliver to their location(s) in Nigeria.
Contact us for assistance for Import Permits & to buy Petroleum Products.
Email: contact@aziza.com.ng
Mobile: +234 8033 185 898