In this post, we are majored on Refineries Business Investment Opportunities in Nigeria. The Refineries opportunities, the environment, local participation and establishment of Modular Refinery Requirements in line with Nigerian Local Content Law.
The Nigerian Oil and Gas business is opening up and receiving more investment in Refineries Investment.  As government deepens the downstream deregulation, this has attracted investment in building oil refineries in the crude rich region in Nigeria.
Local content law may have played a good role on attracting more investors as it boost investors confidence more.
The inability of government owned refineries to function has fueled the Refineries Investment Opportunities in Nigeria as non of the four refineries are working.
The downstream industry in Nigeria is well established. NNPC has four refineries, two in Port Harcourt (PHRC), and one each in Kaduna (KRPC) and Warri (WRPC). The refineries have a combined installed capacity of 445,000 bpd. A comprehensive network of pipelines and depots strategically located throughout Nigeria links these refineries.
These four refineries owned by government are merely on paper.  200 million Nigerians depend almost on imported refined products.
The petroleum products importation statistics for Q2 2019 reflected that 5.61 bln litres of premium motor spirit (PMS), 1.38 bln litres of automotive gas oil (AGO), 12.22 mln litres of Household kerosene (HHK), 131.36 mln litres of aviation turbine kerosene (ATK), 77.24 mln litres of base oil, 41.79 mln litres of bitumen, 27.68 mln litres of low pour fuel oil (LPFO) and 354.70 mln liters of Liquefied Petroleum Gas (LPG) were imported into the country in Q2 2019. Petroleum Products Imports and Consumption Statistics (Q2 2019).
In 2019, Nigeria imported 19bn litres of petroleum products while the country's refineries produced only 166.33 million litres of Premium Motor Spirit, PMS, also known as petrol, in 2019 – PPPRA.
Nigerian Refineries in Brief.
The Port Harcourt (PHRC) is made up of two refineries, located at Alesa Eleme near Port Harcourt with a jetty (for product import and export). The jetty is located 7.5km away from the refinery complex. In 1983, the Port Harcourt refinery with 60,000 bpsd name plate CDU capacity and the tankage facilities were acquired by NNPC from SHELL. Subsequently, a new 150,000 bpsd export refinery was built in 1988 and commissioned in 1989. Therefore, the current combined installed capacity of PHRC is 210,000 bpsd.
The installed capacities of Kaduna (KRPC) and Warri (WRPC) are 110,000 bpsd and 125,000 bpsd respectively.
NNPC, through its subsidiary, the Pipelines and Products Marketing Company (PPMC), supplies only to bulk customers. They, in turn, meet the needs of millions of customers across the country for products ranging from gasoline and jet fuel to diesel, fuel oil and liquefied petroleum gas.​
Private Refineries in Nigeria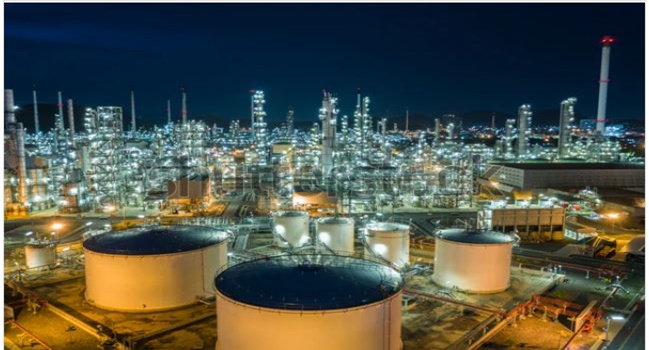 There are number of privately owned refineries that are operating in Nigeria while some are under construction stages while some are just at the obtaining license stage.
Waltersmith Modular Refinery
OPAC Refinery
Dangote Refinery
Ogbele Refinery (Delta E&P)
Edo Refinery.
Government Owned
Port Harcourt Refining Company (PHRC)
Kaduna Refining & Petrochemical Company Limited (KRPC)
Warri Refining & Petrochemical Company Limited (WRPC)​
Challenges Facing Government Owned Refineries
Poor governance.
No major turnaround maintenance has been carried out in any of these refineries since 2008. The last TAM in PHRC was carried out in 2000. This should be viewed against the established best practice worldwide that TAM should be conducted by refineries every two or maximum 3 years.
Pipelines supplying crude oil to the refineries, and those conveying products from them are routinely vandalized. This leads to massive loss of revenue and worsens the problem of under-recovery of crude cost.
Even if the refineries were able to operate consistently, the price of Premium Motor Spirit (PMS) is regulated by Government, leading to serious under-recovery of crude cost.
Nigerian Local Content in Establishing Refineries.
It is important to note that Local Content is an integral plan when it comes to Refineries and Petrochemicals Business Investment plan in Nigeria. The Nigerian Local content board must be fully involved in the conception stage and till completion. You all need a good local partner if you are a foreign investor. Read more on Nigerian Local Content.
A sustainable and transparent framework is provided for the selection of potential investors, and shall take cognizance of the existing guidelines and objectives of the Refinery Expansion plan.
The licensing processes as prescribed in the guidelines for the establishment of Hydrocarbon Processing Plant in Nigeria by Department of Petroleum Resources (DPR) are in three phases namely.
(a) License to Establish (LTE),
(b) Authority to Construct (ATC)
(c) License to Operate (LTO).
To qualify and move between phases requires certain criteria to be satisfied. Some of the key general and technical criteria which interested investors must satisfy.
General Criteria
a) Institutional Framework – Company and Organizational Structure
Evidence of CAC registration for Nigerian companies/entities, foreign companies evidence/reference by Home Country's agency. For consortium partnership, foreign and local companies must meet standard criteria and present legal documents of partnership,
certified true copies of Memorandum and Article of Association, Evidence of joint venture/partnership Agreement, Company Profile etc.
b) Financial Status
Three (3) years Audited Account, Financial report and Tax Certificate for Nigerian companies and similar documentation for foreign companies, paid up share capital, Investment Type, Detailed financial plan with Proof and source of funding, sworn affidavit and letter of authority allowing verification of all claims
c) Community Affairs, Safety, Health, Environment and Security (CASHES)
Health, Safety and Environment (HSE) Plans, Quality Management System, Security Plans, Management of Change Procedure, Community Affairs and Corporate Social Responsibility Plans.
d) Nigerian Content
Applicants will be required to maximize the utilization of local human and material resources in line with Nigerian content requirements.
Modular Refineries Technical Specification
a) Plant Philosophy Model
The requirement is as outlined in DPR guidelines for the establishment of Hydrocarbon Processing Plant and the Supplementary Guidelines for Modular Refinery Plants. Investors are expected to demonstrate a positive crack spread for the chosen refinery design.
This includes but not limited to the following: Plant description and configuration, — desired output, management of light products and by-products (Gasoline, Naphtha, LPG & Heavy-ends), Details of marketing plan/strategy, Details of technology, Crude assay and

b) Age of Modular Refinery to be located
An applicant shall not be allowed to relocate a refinery that is older than Ten (10) years in operation from the date of establishment.
Where the refinery has not been in operation since establishment and well preserved, subject to verification, it should not be older than 15years from the date of establishment.
DPR will provide a plant technical audit checklist for this purpose.
Feel free to contact us for your Oil & Gas and Marine business setup in Nigeria.